How many of you have had your hair curled with a flat iron at the salon only to have it fall apart by the time you get home? Instead of wishing you had the tools to touch up the hairstyle at home, now you can recreate this look by following these simple steps. If it doesn't look amazing on the first try just keep practicing! These instructions will help you achieve beautifully curled hair with your flat iron without having to pay the salon price. In order to make these instructions as useful to you as possible, we are...
---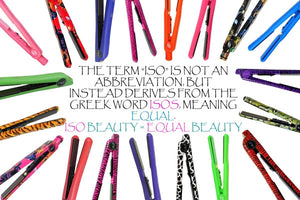 We're sure you all have been wondering what "ISO" means. Well wonder no more, this is what ISO Beauty stands for: ISO is not an abbreviation, but instead derives from the word, ISOS, which means EQUAL.
So there you have it loves. ISO Beauty is EQUAL Beauty. You are all beautiful in your own way.